Tour & Outing Events Coordinator – Contact John Robinson
.
Chinese Gardens Tour & Lunch in Chinatown
Thursday, 6 May

Numbers are confirmed for 6th May 2021. 28 people are attending. Lunch will be at 12 midday for a set session of one and a half hours. (Covid rules). Dessert may be ordered and paid for on the day. There will be an opportunity for people to return to the Gardens after lunch if they so desire.
Should anyone wish to only visit the gardens and not stay for lunch please feel free to come, lunch at the gardens is not compulsory.
The Chinese Garden of Friendship is a serene place of beauty at the southern end of Darling Harbour.
The Garden was built to symbolise the friendship between Sydney, New South Wales and the city of Guangzhou in the province of Guangdong, China (sister cities of sister states) and was formally opened as part of Australia's Bicentennial Celebrations on 17 January 1988.
Designed in 1986 by landscape architects and gardeners from Sydney's sister city, Guangzhou, the Chinese Garden of Friendship follows the Taoist principles of 'Yin-Yang' – the balance of opposing yet complementary forces – and 'Wu-Xing' – the harmonious five elements of wood, fire, earth, metal and water. Wander serene pathways and take in exotic plants, blooming flowers and a lake of shimmering Koi.
We will take a short stroll to Chinatown for lunch. Margaret Lovett, our Social Coordinator, is choosing a lunch option close by. Chopsticks optional.
We will catch the 8.54am bus from Glen Street, the train from Chatswood to Town Hall and then it is a 10 to 15 minute easy walk to the Gardens. Entry to the Garden is $6.00.
National Maritime Museum Three Hour Sydney Harbour Secrets Cruise on Steam Tug "Waratah"
Friday, 4 June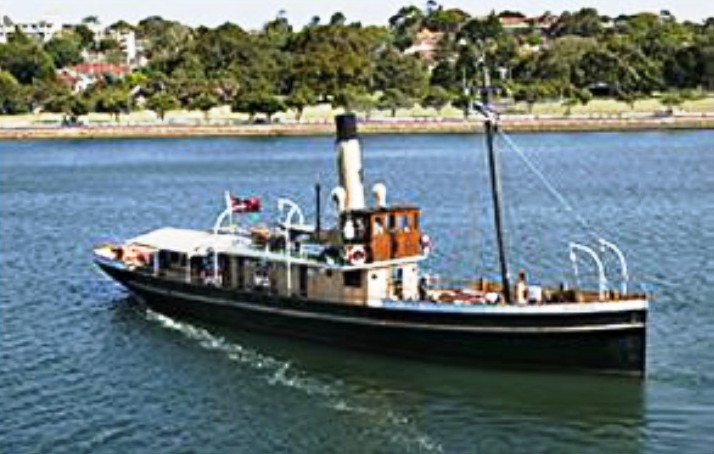 Our 1902 steam tug cruise passes important and interesting sites around the harbour including Goat Island, Garden Island, Mort's Dock, Woolwich Dock, Spectacle, Snapper and Cockatoo Islands. An experienced Tour Guide will tell us about their historical significance.
Cruise departs Northern end Pirrama Park, Pyrmont.
Time 11.45am for 12.15pm departure to 3.15pm
BYO picnic lunch, tea & coffee on board.
No high heeled shoes. Warm top.
Cost $43.00. However will accept valid Covid Discover NSW vouchers for $25.00 per person,
Plus the Museum is loading the $25.00 by $10 to $35.00.
If paying balance of $8.00 to club account please ensure you have your valid voucher on the day.
Please register and pay on the club website. Due to Covid, numbers are limited to 30. The Museum is hopeful that by June the limit may be lifted to 49.
We will catch the 10.17am Bus from Glen Street shops to QVB then 389 bus from Park Street to departure point in Pyrmont.