Coordinator is Helen Miles..
---
Go to Photo Albums to view a particular year's walking photos.
The aim of the Walking Group is to provide a healthy and social activity at minimum cost.
When lunch is shown, it is usually a low cost option. If you wish to leave the activity prior to lunch, please let the leader know. The leader carries an attendance register, a first aid kit and an emergency contact list.
Most walks have some hills and some steps. You will be informed about the level of difficulty at the meeting prior to the walk.
---
September Walk
Our September walk is on Friday, 29 September and is a short and relatively easy bush walk in the Garigal National Park in Davidson. This walk is through amazingly well preserved natural bushland that also has some great views over Middle Harbour. Surprisingly, it is very close to some Davidson homes, including the home of Ted and Judy Morton.
Meet at 89 Prahran Avenue, Davidson at about 8:50am for a 9:00am start. It is a relatively short walk led by Ted and Judy that has one rock "scramble" which is easy to get down. We will travel slowly so you can experience the wonderful bushland and scenery. Hopefully we will see some native flowers in bloom.
Following the walk we will continue up to Imbue Café in Yindela Street for a coffee.
Ted Morton
---
August Walk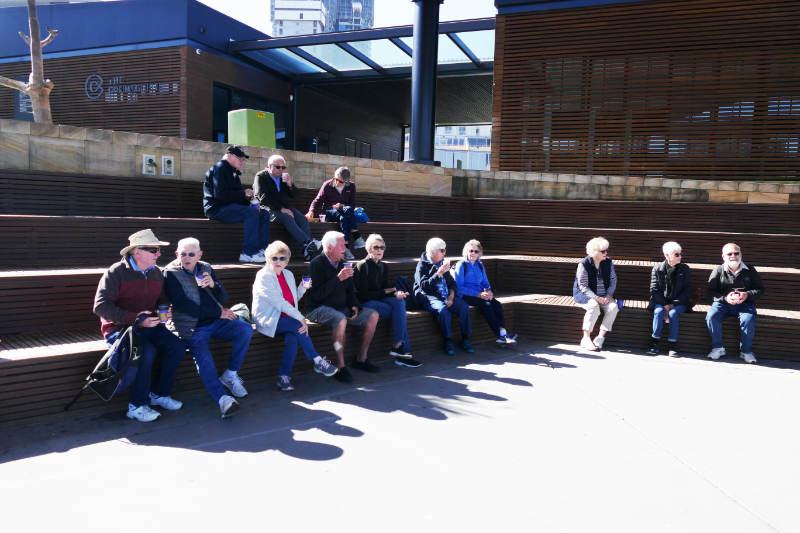 Our August walk was on Friday 25 August – Rhodes to Wentworth Point and was led by Helen.
Fourteen walkers enjoyed a perfect, early Spring day, exploring the Wentworth Point area. Bus to Chatswood, Metro to Epping and train to Rhodes, then, after a well deserved coffee by the water, we set out on our walk across the bridge from Rhodes to Wentworth Point. We had cheese and biscuits by the water of Homebush Bay and lunch in The Piazza, then caught the free bus to Sydney Olympic Park Ferry Wharf for the Rivercat to Circular Quay, Light Rail to QVB and finally a bus home. A day of walking and sampling many types of transport for $2.50!
---
July Walk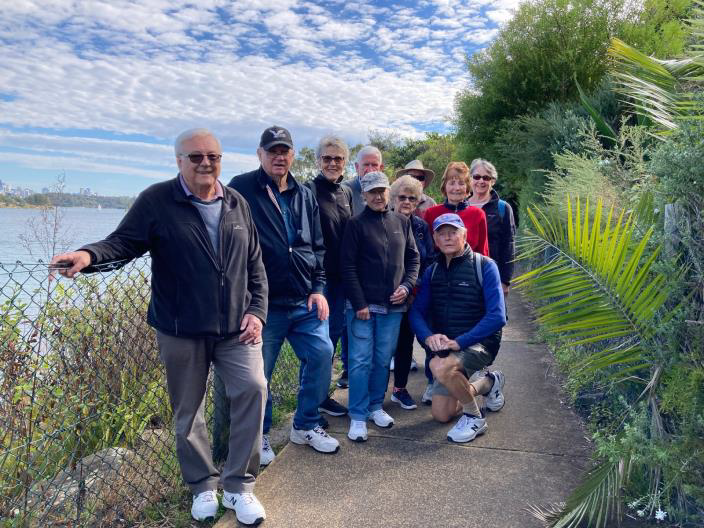 Eleven enthusiastic walkers set out on Friday 28th, a perfect Winter's day, to tackle the rather taxing Rose Bay to Watson's Bay walk. This is quite a long walk with a lot of up and down steep steps but with wonderful harbour views. After coffee at Rose Bay and a bus ride up Heartbreak Hill we started our walk at Kambala School and along the harbour foreshore passing Queens Beach, Hermit Bay, Milk Beach, Strickland House and Nielsen Park where we stopped for a rest and cheese and biscuits. From here the walk follows streets with amazing houses, crosses the Parsley Bay Bridge, then along more streets to Watson's Bay and lunch at the Bay Cafe. An easy trip home by ferry, light rail and bus completed a great day out. Thank you Malcolm for leading our walk.
---
June Walk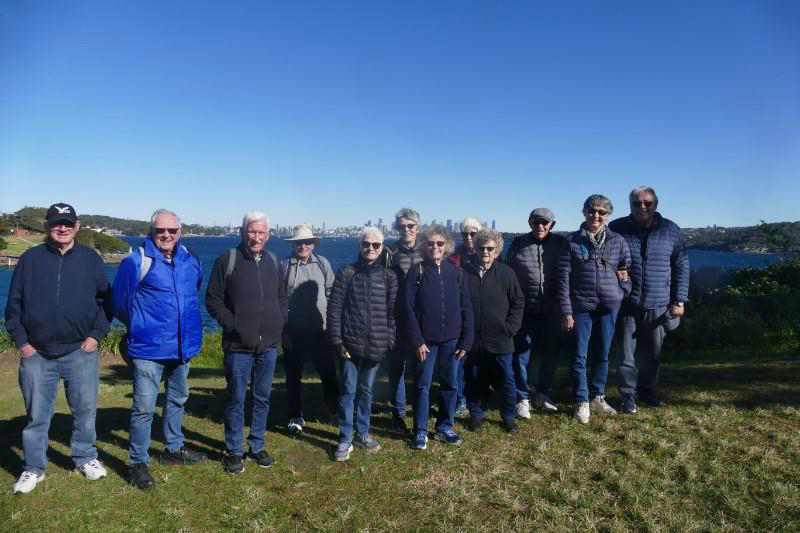 On an extremely windy 30 June, twelve walkers, led by Lyn & Jock, braved the conditions and set out to walk around South Head. After an enjoyable ferry trip to Watson's Bay and coffee in a sunny position out of the wind, we set out on the walk. The views down the harbour were sharp and clear and we managed to find a sheltered spot for cheese and biscuits while watching two whales out to sea. Hastings & Liz met us at Watson's Bay wharf where we all enjoyed lunch before returning home. Thanks Lyn & Jock for a great day out.
---
May Walk
Postponed until June
---
April Walk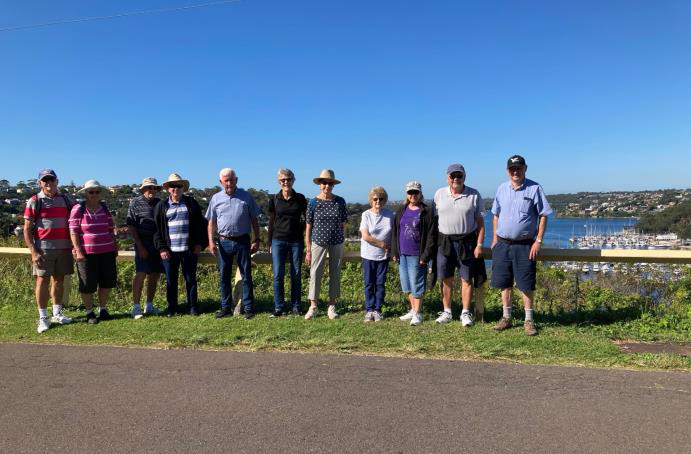 On Friday 28th April, a perfect Autumn day, twelve walkers met at the Balgowlah RSL Club for our walk in
Seaforth led by Malcolm McLean.
After a coffee at the Local's Corner we set off to enjoy the views over the Spit and out to the heads, and some amazing houses along the route. After cheese and biscuits we retraced out steps and then proceeded to Wakehurst Golf Club for an early, relaxed lunch. Thanks Malcolm for a great morning stroll.
---
March Walk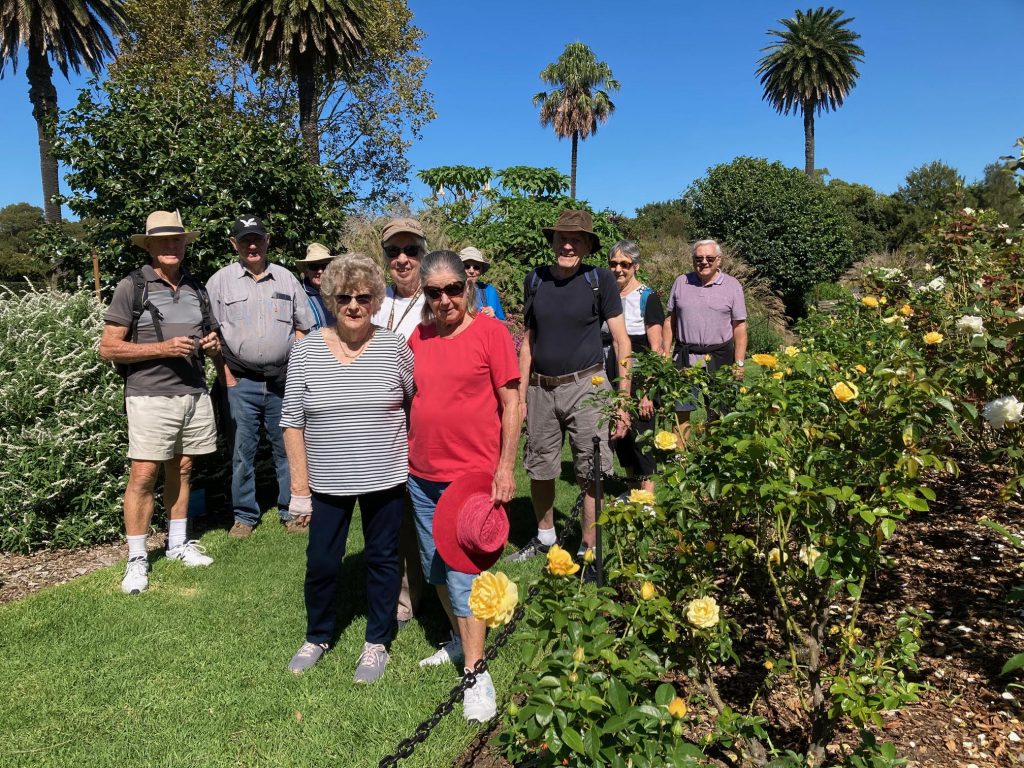 Eleven walkers enjoyed a perfect Autumn day strolling around Centennial Park. Coffee at the Greenhouse and cheese and biscuits in the shade near the Duck Pond. We then walked through the rose and flower gardens and around Busby's Pond to lunch in the shelter shed by The Spruce Goose Diner before the return trip home.
A very relaxed, enjoyable day.
---
February Walk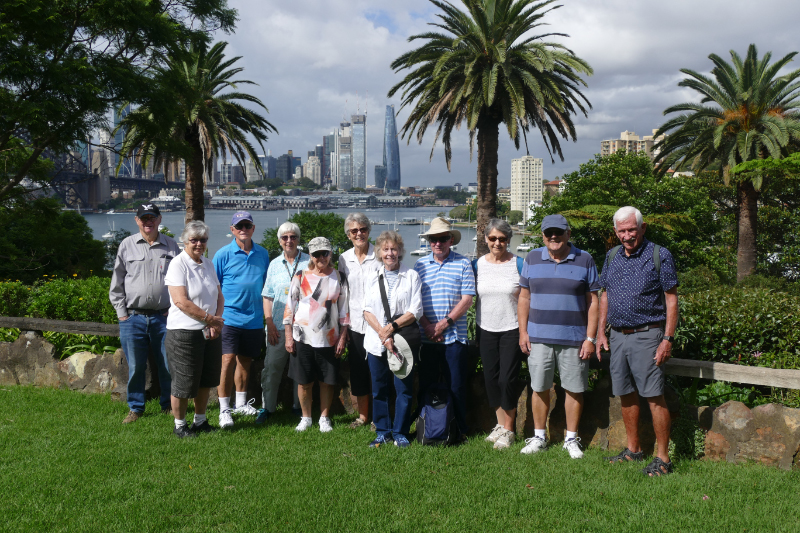 Twelve members enjoyed coffee in North Sydney before strolling through and exploring the landscaping, shade, thick, lush and varied vegetation and interesting memorabilia in Wendy's Secret Garden. From here we walked along the Lavender Bay foreshore, past Luna Park, under the Harbour Bridge to Kirribilli for cheese and biscuits, in the shade with cool breeze and harbour and city views. Refreshed and with the options of a ferry ride or walk over the bridge we headed off to the city, meeting up for a delicious lunch in the Bakers Oven in the Rocks before catching the light rail and bus home.
Thank you Ted for leading us on a great day out.
---
December 2022 and January 2023
No walks in December and January.
---
November Walk – Watson's Bay to North Bondi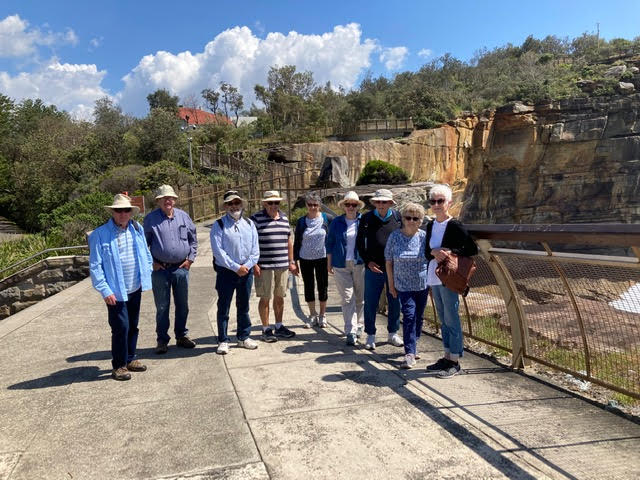 Our last walk for the year was on Friday 25th November and was Watson's Bay to North Bondi led by Helen.
With perfect weather conditions, ten walkers caught the 9.45am ferry to Watson's Bay after coffee at Circular Quay and set off on the coastal walk from the Gap towards North Bondi. With great cliff and ocean views on our left and spectacular harbour views on our right we wound our way up past gun placements, the signal station and the Macquarie Lighthouse. Our cheese and biscuits stop was in a
pleasant, shady spot by a waterfall before we tackled all the steps, down and up, around Rosa Gully and
Diamond Bay. With the last section of stairs closed, we made our way up to Military Road at Dover Heights. From this point the walk is mostly beside Military Road, away from the cliff edge and being lunchtime, we caught the bus the remainder of the way to North Bondi. Here we enjoyed an end of
year lunch at the RSL Club overlooking Bondi Beach before returning home.
A special thank you to Diane Baker for minding a table for us.
---
October Walk – Coogee to Maroubra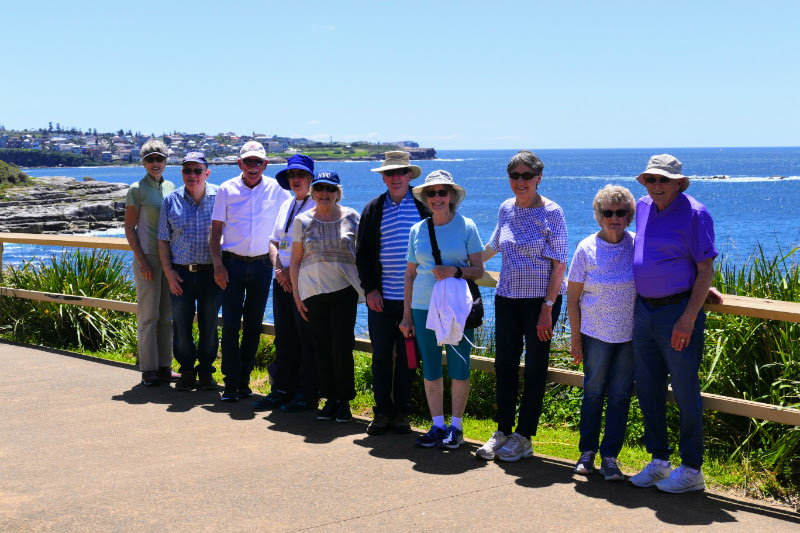 On Friday 28th October 11 courageous and enthusiastic walkers were finally able to experience the many times postponed Coogee to Maroubra coastal walk led by Helen. With transport connections working well we arrived at Coogee to enjoy morning coffee under clear, blue skies beside the sparkling blue ocean. Heading off along the Coastal Walk to Maroubra we had cheese and biscuits overlooking the ocean before arriving safely at the Marini Cafe opposite Maroubra Beach for an enjoyable lunch chosen from their amazingly large menu.
---
September Walk – Cancelled
Sadly our September walk was again cancelled due to the adverse weather forecast.
---
July Walk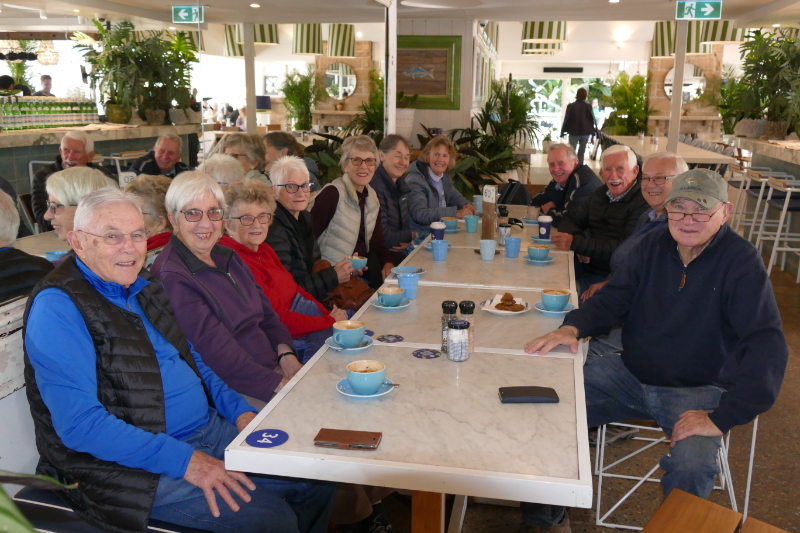 Ten members and two friends enjoyed a wonderful day walking in Manly. We managed to keep out of the cold wind walking in the sunshine to Shelley Beach where we had our morning coffee and sang Happy Birthday to Elaine. From there we did the walk around the headland, having cheese & biscuits at one of the lookouts, seeing a whale in the far distance, then returning to Manly for lunch and the trip home.
---
June Walk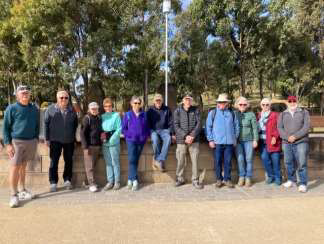 Our June walk was around Barangaroo and Walsh Bay Wharves and was led by Helen as Lyn & Jock were enjoying a week away. Although it was cool and partly cloudy, twelve walkers enjoyed this area and being able to walk along the water's edge while taking in the harbour views now the building of the Casino is completed. We were also really impressed by the growth of all the landscaped planting in this area.
Coffee at Wild Sage, cheese & biscuits en route and lunch at the Museum of Contemporary Art were also enjoyed.
---
May Walk
Our May walk was at George's Heights and Middle Head led by Helen.
Once again we had a wonderful sunny day and the 11 walkers enjoyed the great views of the harbour from George's Head before proceeding down to the Middle Head Fortifications. We enjoyed coffee in
the courtyard at the Middle Head Cafe then continued on to the Fortifications to explore, enjoy the views and cheese & biscuits. Later some of us returned to the Cafe for lunch.
Thank you Peter for the fantastic photos of our day.
---
April Walk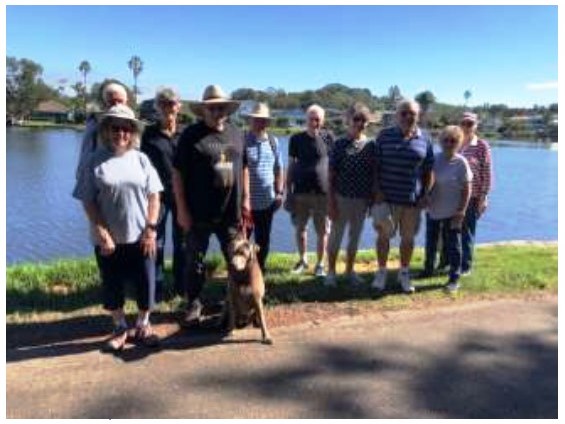 Our April walk in Narrabeen was led by Ted and enjoyed by 12 walkers and Molly.
How lucky were we to have a lovely sunny day after all the rain. We started along the ocean side before crossing over to the lake. A leisurely coffee was really enjoyed at H2O before continuing on around the lake for cheese and biscuits in the shade and a return to the cars. Thank you Ted for a great morning out after all the wet weather.
---
March Walk
Due to the weather conditions on Thursday 24 March and forecast for Friday 25 March a decision to cancel the March walk was made in time for an email to inform members. Unfortunately the weather on Friday morning was better than expected and we could have enjoyed the walk. We hope to reschedule this walk at a later date.
---
November Walk
Our November walk was on Friday 26th at Narrabeen and was to be led by Ted Morton. Unfortunately due to the weather we did not walk but 11 members met for a most enjoyable lunch at Oceans Narrabeen. Thank you Ted for organising the venue for our last walk of the year.
There is no walk in December or January but we will recommence in 2022 on Friday, 25th February with a new programme for the year.
---
October Walk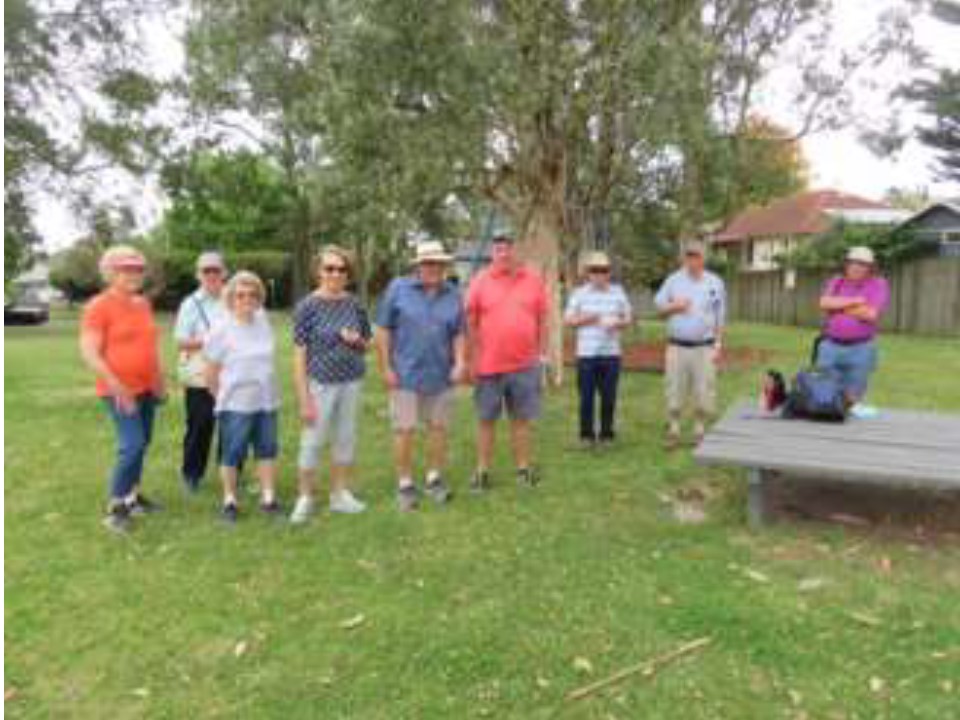 Ten walkers braved the hot weather forecast to enjoy the 3 Bridges walk at Frenchs Forest.
We were extremely lucky to have cloud and a breeze to keep temperatures down as we walked over the Wakehurst Parkway to the Aquatic centre and Baseball fields. We then retraced our steps to the park for cheese and biscuits before crossing the bridge at Forest Way for coffee at the shops then on to the bridge at the NB Hospital and the route back to our cars. A very pleasant walk and get together after lockdown.
Helen Miles
---
June Walk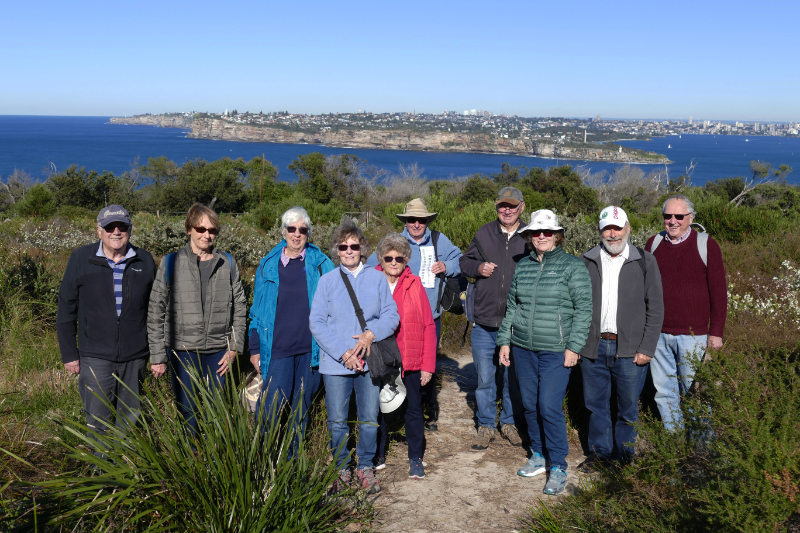 The walk on 25 June was at North Head and was led by Ted Morton.
While we had been hoping for more starters on this easy walk, we had 10 happy members who enjoyed a beautiful clear and sunny day and an interesting walk with great scenery and many points of interest. (The coffee was good too!)
The walk encompassed the old military barracks and parade ground, beautiful native bushland, great lookout points with views across the harbour, the 3rd Quarantine cemetery and some gun emplacements. Some claim to have sighted a splash from a frolicking whale! Another highlight was the extensive memorial walkway for men and women who have served in all conflicts. Descendants can buy an engraved paver and have it placed along the walkway in memory of their loved one. Ted has one for his father.
Thanks, Ted for a terrific outing.
Helen Miles
---
May Walk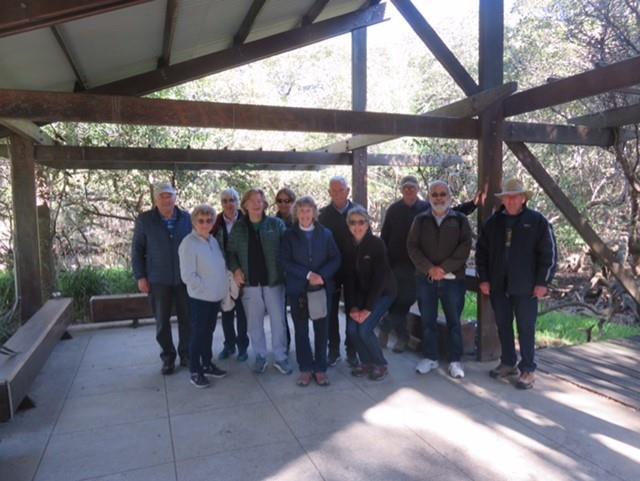 Our May walk was on Friday 28th May at Bicentennial Park, Sydney Olympic Park and was led by Elaine Winslade.
Twelve walkers braved the sunny but very cold, windy conditions to explore a section of the park.
After coffee at Waterview Cafe we headed off, passing the Village Green Playground, to the Treillage Tower where some members braved the wind to climb to the top.
From here we walked down to the Sundial then past the Field Studies Tower and along the path by Powell's Creek to the Badu mangroves and boardwalk and Bennelong Pond. We then turned south across the grass, past the Peace Monument and Hill Pavilion to the Lake Belvedere circuit before returning to Waterview Cafe for lunch.
Thank you Elaine for a very enjoyable outing.
Helen Miles
---
April Walk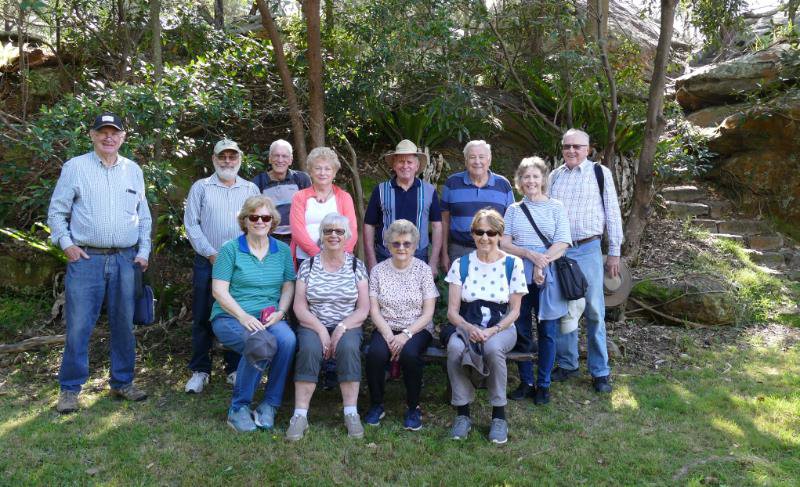 Our April Walk was on Friday 30th April and was led by Malcolm McLean. Thirteen walkers met outside the Castlecrag Private Hospital for a walk around the area looking at some of the Walter Burley Griffin houses. After coffee at the local shops Malcolm led us along interesting tracks among houses where we saw a number of sandstone and flat roof homes typical of the Burley Griffin style. We climbed up Tower Reserve for a view of the harbour and enjoyed our cheese and biscuits in the park at the base of the rocky outcrop before heading back along Edinburgh Road to the Ganache Patisserie for lunch. Thank you, Malcolm for a very informa-tive outing. Helen Miles
---
March Walk

Our March walk was on Friday, 26 March.
Again, we were lucky with a lovely sunny day for our walk from North Harbour Reserve to Manly and return. After all the rain seven members enjoyed the pleasant conditions walking along the harbour foreshore. We had coffee and icy fruit juices with our cheese and biscuits overlooking the wharf and harbour pool at Manly before returning to Balgowlah.
---
Looking Back
The walking group had its first walk on 4 July 2008. It was started by John Robinson and Ted Morton. Subsequently, the timing of the walks was changed to the last Friday of the month. Many areas of Sydney have been explored.
---
The Heart Foundation
The Heart Foundation has recently commenced walking groups. The bad news is the closest group to Belrose is North Sydney. The good news is you have your very own walking group within our Probus Club.
Here is an extract of what the Heart Foundation has to say about walking:
"There are many ways to be physically active, but walking is the number one activity most Australian adults do on a regular basis. Walking is so popular because it is suitable for people of all ages and fitness levels. It can be done just about anywhere and is free. Walking also has a very low risk of injury (not jarring on the joints) and doesn't require any special equipment or training.
Although we encourage everyone to walk, Heart Foundation Walking is structured around organised groups, as this compliments the social aspect of walking. People can talk while they walk so it's a great way to get to know your neighbours and your neighbourhood.
Being active on a regular basis is an important part of a healthy lifestyle and walking is a great way to look after your heart. Regular physical activity helps –
reduce the risk of heart disease & stroke,
manage weight, blood pressure & cholesterol
prevent & control diabetes
reduce the risk of developing some cancers
maintain bone density, reducing the risk of fractures
improve balance and coordination, reducing the risk of falls
It also helps you feel stronger, more energetic and happier and improves your overall quality and enjoyment of life."
So, what is stopping you? Get involved in your Club's walking group and enjoy easy walking in a social atmosphere with friends.