Coordinator is Helen Miles.
.
Go to Photo Albums to view a particular year's walking photos.
The aim of the Walking Group is to provide a healthy and social activity at minimum cost.
When lunch is shown, it is usually a low cost option. If you wish to leave the activity prior to lunch, please let the leader know. The leader carries an attendance register, a first aid kit and an emergency contact list.
Most walks have some hills and some steps. You will be informed about the level of difficulty at the meeting prior to the walk.
September Walk
Our September Walk was enjoyed by 16 walkers on another perfect day. It was the 2 Creeks Walk led by Ted Morton. We started from Echo Point Park
and walked under Roseville Bridge and along a bush track beside Middle Harbour. There were some interesting bush and water views along the route with a spectacular spot for our cheese and biscuit stop. On our return we were able to enjoy coffee at Echo on the Marina. Thank you Ted for a great walk.
October Walk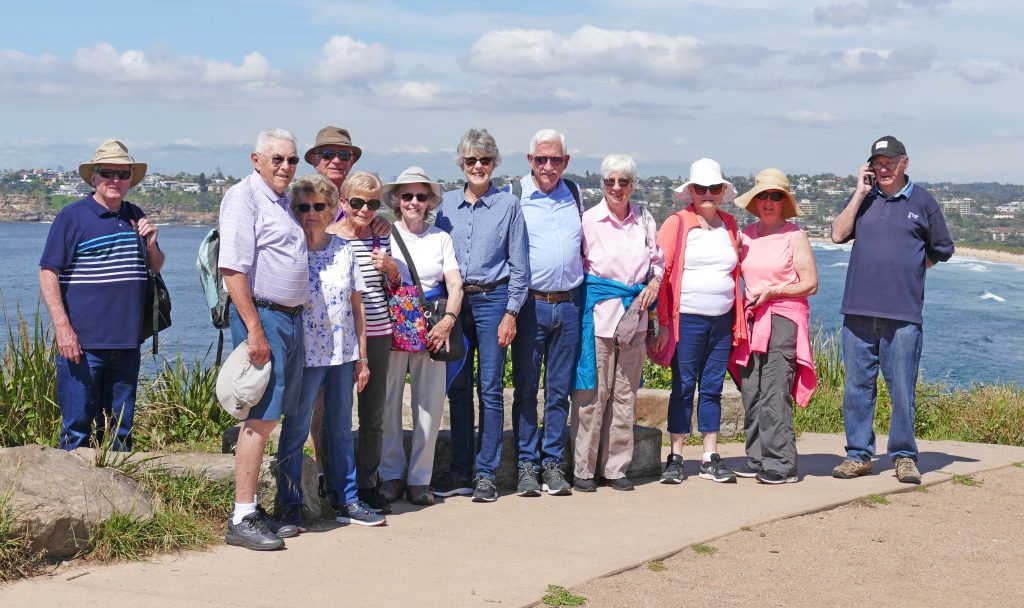 Our October walk was on Friday 30th and was Collaroy to Long Reef. We parked and met at the end of Beach Road overlooking Collaroy Pool at 9.30am. The walk was along the coast, up Long Reef Headland and around the golf course.
Our Last Walk for 2020
This was on November 27th – Bayview to Church Point
Looking Back
The walking group had its first walk on 4 July 2008. It was started by John Robinson and Ted Morton. Subsequently, the timing of the walks was changed to the last Friday of the month. Many areas of Sydney have been explored.
The Heart Foundation
The Heart Foundation has recently commenced walking groups. The bad news is the closest group to Belrose is North Sydney. The good news is you have your very own walking group within our Probus Club.
Here is an extract of what the Heart Foundation has to say about walking:
"There are many ways to be physically active, but walking is the number one activity most Australian adults do on a regular basis. Walking is so popular because it is suitable for people of all ages and fitness levels. It can be done just about anywhere and is free. Walking also has a very low risk of injury (not jarring on the joints) and doesn't require any special equipment or training.
Although we encourage everyone to walk, Heart Foundation Walking is structured around organised groups, as this compliments the social aspect of walking. People can talk while they walk so it's a great way to get to know your neighbours and your neighbourhood.
Being active on a regular basis is an important part of a healthy lifestyle and walking is a great way to look after your heart. Regular physical activity helps –
reduce the risk of heart disease & stroke,
manage weight, blood pressure & cholesterol
prevent & control diabetes
reduce the risk of developing some cancers
maintain bone density, reducing the risk of fractures
improve balance and coordination, reducing the risk of falls
It also helps you feel stronger, more energetic and happier and improves your overall quality and enjoyment of life."
So, what is stopping you? Get involved in your Club's walking group and enjoy easy walking in a social atmosphere with friends.