Coordinator is Helen Miles.
.
Go to Photo Albums to view a particular year's walking photos.
The aim of the Walking Group is to provide a healthy and social activity at minimum cost.
When lunch is shown, it is usually a low cost option. If you wish to leave the activity prior to lunch, please let the leader know. The leader carries an attendance register, a first aid kit and an emergency contact list.
Most walks have some hills and some steps. You will be informed about the level of difficulty at the meeting prior to the walk.
June Walk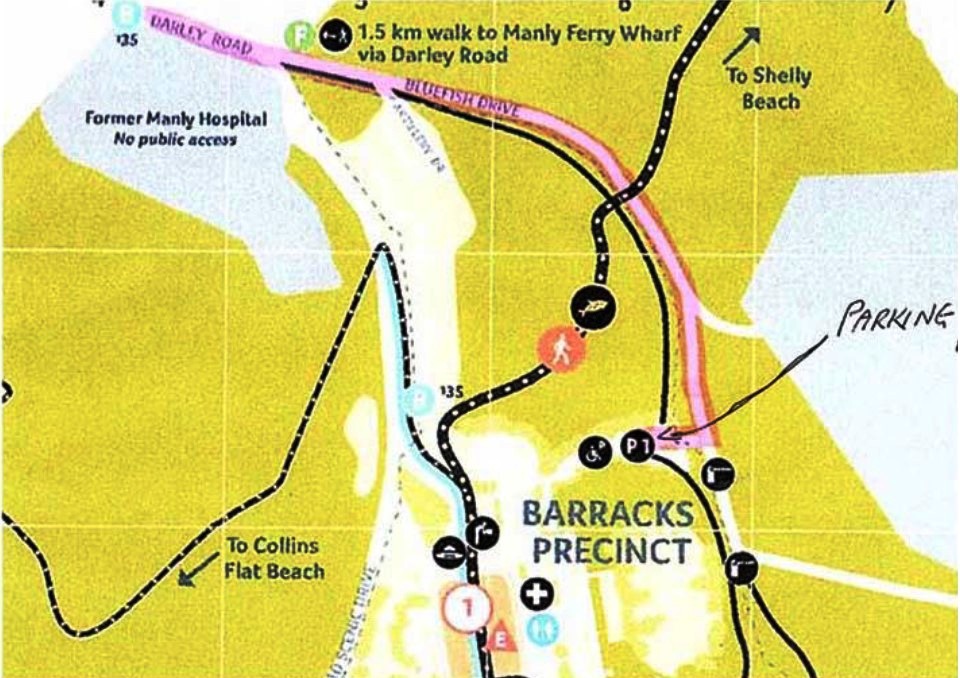 The June walk is on Friday 25 June and is at North Head. Ted Morton is the Leader.
This is a terrific and varied walk as we will pass through the old Artillery Barracks and Parade ground, then along a metal deck walk through protected bushland, stopping at a couple of lookouts with views across the Harbour towards the city. Then it is on to the Third Quarantine cemetery before getting to a coffee stop at the Bella Vista Café and Restaurant.
The walk then continues around the Defence of Sydney Monument and the memorial walkway. Finally, we inspect a couple of gun emplacements before returning to our vehicles.
The following map shows the driving route and where we will meet and park our cars – Carpark P1. After passing the old Manly hospital do not turn right through the arch, but instead go straight ahead along Bluefish Drive. Aim to meet at 9:30am. Allow about 45 minutes from the Forest area.
Anyone who wishes to go on this walk and would like a lift please telephone either Helen (0407 078 963) or Ted (0412 235 400) who will try and organise a ride.
Ted Morton
May Walk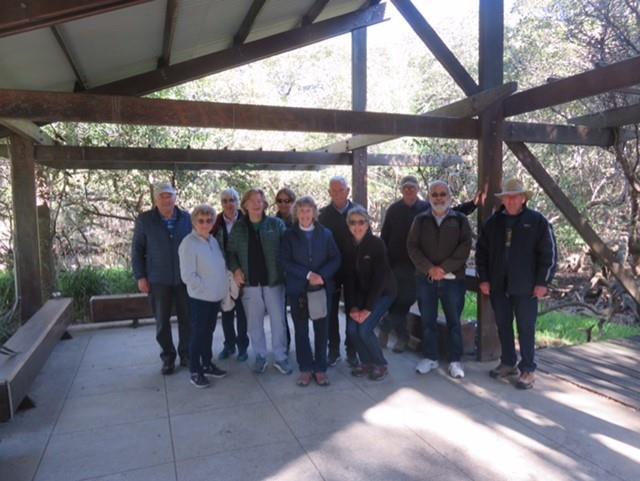 Our May walk was on Friday 28th May at Bicentennial Park, Sydney Olympic Park and was led by Elaine Winslade.
Twelve walkers braved the sunny but very cold, windy conditions to explore a section of the park.
After coffee at Waterview Cafe we headed off, passing the Village Green Playground, to the Treillage Tower where some members braved the wind to climb to the top.
From here we walked down to the Sundial then past the Field Studies Tower and along the path by Powell's Creek to the Badu mangroves and boardwalk and Bennelong Pond. We then turned south across the grass, past the Peace Monument and Hill Pavilion to the Lake Belvedere circuit before returning to Waterview Cafe for lunch.
Thank you Elaine for a very enjoyable outing.
Helen Miles
April Walk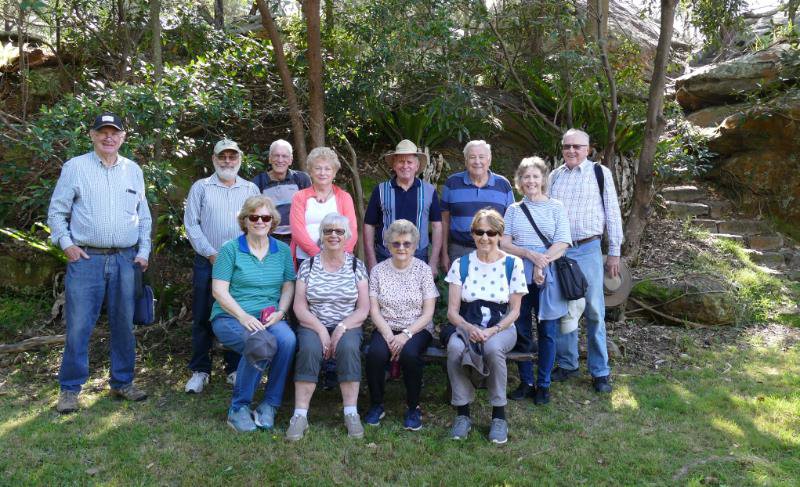 Our April Walk was on Friday 30th April and was led by Malcolm McLean. Thirteen walkers met outside the Castlecrag Private Hospital for a walk around the area looking at some of the Walter Burley Griffin houses. After coffee at the local shops Malcolm led us along interesting tracks among houses where we saw a number of sandstone and flat roof homes typical of the Burley Griffin style. We climbed up Tower Reserve for a view of the harbour and enjoyed our cheese and biscuits in the park at the base of the rocky outcrop before heading back along Edinburgh Road to the Ganache Patisserie for lunch. Thank you, Malcolm for a very informa-tive outing. Helen Miles
March Walk

Our March walk was on Friday, 26 March.
Again, we were lucky with a lovely sunny day for our walk from North Harbour Reserve to Manly and return. After all the rain seven members enjoyed the pleasant conditions walking along the harbour foreshore. We had coffee and icy fruit juices with our cheese and biscuits overlooking the wharf and harbour pool at Manly before returning to Balgowlah.
Looking Back
The walking group had its first walk on 4 July 2008. It was started by John Robinson and Ted Morton. Subsequently, the timing of the walks was changed to the last Friday of the month. Many areas of Sydney have been explored.
The Heart Foundation
The Heart Foundation has recently commenced walking groups. The bad news is the closest group to Belrose is North Sydney. The good news is you have your very own walking group within our Probus Club.
Here is an extract of what the Heart Foundation has to say about walking:
"There are many ways to be physically active, but walking is the number one activity most Australian adults do on a regular basis. Walking is so popular because it is suitable for people of all ages and fitness levels. It can be done just about anywhere and is free. Walking also has a very low risk of injury (not jarring on the joints) and doesn't require any special equipment or training.
Although we encourage everyone to walk, Heart Foundation Walking is structured around organised groups, as this compliments the social aspect of walking. People can talk while they walk so it's a great way to get to know your neighbours and your neighbourhood.
Being active on a regular basis is an important part of a healthy lifestyle and walking is a great way to look after your heart. Regular physical activity helps –
reduce the risk of heart disease & stroke,
manage weight, blood pressure & cholesterol
prevent & control diabetes
reduce the risk of developing some cancers
maintain bone density, reducing the risk of fractures
improve balance and coordination, reducing the risk of falls
It also helps you feel stronger, more energetic and happier and improves your overall quality and enjoyment of life."
So, what is stopping you? Get involved in your Club's walking group and enjoy easy walking in a social atmosphere with friends.